Disinfection / Applications
No more safe space,
since COVID-19
Traditional cleaning can no longer meet the challenge of protection against infectious diseases present in a building whether it is a school, a gym, or an office building.
Tests have shown that a virus placed on the front door of a building can contaminate 50% to 63% of the office in four to seven hours, simply by tactile transfer.
Door handles, light switches, elevator buttons, bookcase, undersides and edges of tables and chairs and even walls can spread germs and virus.

Where disinfection is a must
Hospitals / clinics / health center
During his stay, 1 in 25 patients will contract a nosocomial infection (infection contracted in a hospital environment).
A few remaining pathogens are enough to expose facilities, patients and visitors to dangerous healthcare-associated infections.
These pathogens can hide anywhere and are often out of reach of sprays, wipes and UV lamps.
Patient rooms
Patient rooms are ideal breeding grounds for harmful nosocomial infections. Indeed, during a hospital stay, patients spend most of their time confined to their rooms.
Filled with nooks and crannies where germs hide, a complete and effective disinfection system for the entire room is necessary for the prevention of nosocomial infections and dangerous pathogens.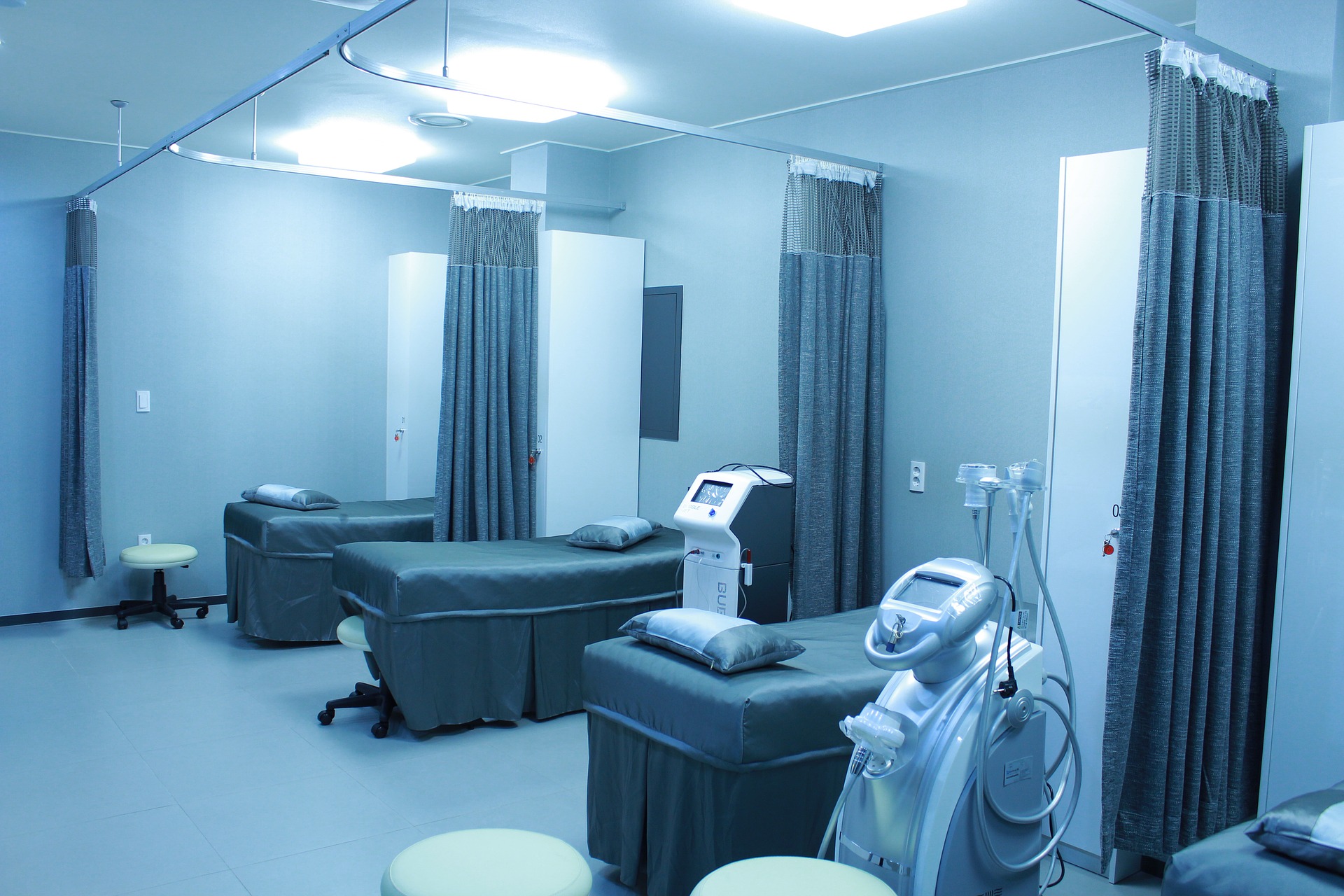 Operating rooms
Patients are most vulnerable to infection in an operating room.
A few pathogens are enough to infect a patient during a sensitive surgical procedure, causing surgical site infections or nosocomial infections.

Effective disinfection solutions are already used in hospitals and should be used in more places to ensure better safety and better protect people's health.
Students and teachers are at high risk of contracting harmful infections like norovirus, influenza and even rhinovirus due to close distances and sharing of supplies. From cafeterias, games rooms, classrooms where students spend most of their days, the school is full of countless spaces and places that need an effective school disinfectant.

Although desktops and floors are cleaned with great care, germs spread to more difficult places to clean, such as carpets in bookcases, door handles, light switches, walls, compartments or the underside and edges of tables and chairs.

Sports centers
Soft surfaces and nooks and crannies are just too hard for standard cleaning and don't stay saturated long enough to remove all harmful pathogens.
Only decontamination of the entire space can completely eliminate these germs.
Equipment and training room
With shared equipment, humid environments and limited time to disinfect between uses, equipment rooms can be fertile ground for dangerous infections like staph for example.
The principle of public transport is to accommodate several people in a more or less reduced space and therefore little increases the risk of infection between the people who use it.
Indeed, germs spread in different places such as for example the handles where users stand, the underside and edges of seats, validation terminals for buses and subways, etc. which are more or less difficult and regularly cleaned.

In addition, the appearance, smell and feel of the environment are essential for transmitting a comfortable atmosphere to people using public transport.

Traditional cleaning and spot disinfection can no longer meet the challenge of protection against current infectious diseases whether in a company or elsewhere.
Tests have shown that a virus placed on the front door of a building can contaminate 50% to 63% of an office in four to seven hours, simply by touch transfer.

Electronic devices also contain bacteria and germs that concierge services cannot manage. Door handles, light switches, elevator buttons and even walls spread germs.

it is important to disinfect and decontaminate buildings, elevators or even entrance halls to protect the health of the people who live there and reduce the transmission of a virus when they return home after work, public transport common or the practice of a sport.
It is therefore necessary to disinfect and decontaminate a building where there are several housing in order to protect all the members of the household who live there.

Solution offered by steamOvap
SteamOvap team has designed and is ready to offer today a solution for easy and safe disinfection: SanitOfog mobile fogging disinfection unit.
With SanitOfog you can disinfect all surfaces, walls, doors, counters, from ceiling to ground in minutes without effort. Eliminating a wide spectrum of pathogenic organisms such as bacteria, bacteria resistant to antibiotics, enveloped or non-enveloped viruses and fungi or tuberculosis without special equipment.
Its use does not require prior knowledge or training, anybody can operate it.
Disinfectant fogging technolology is already used in Health care facilities and hospitals for years to disinfect patient rooms or operating rooms. Today we are bringing this proven technology to everyone:
Long term care home and retirement homes: Disinfection for patient rooms and common areas.
Laboratories: White rooms disinfection.
Schools and children day care: Disinfection for classrooms, game rooms, as well as disinfection for common areas such as gyms, cafeteria, bathrooms, changing rooms.
Sport centers: Disinfection for exercises rooms, yoga classes, changing rooms or bathrooms.
Industries: Disinfection of offices, cafeteria, bathrooms, warehouse our assembly lines.
Transport: Disinfection for bus, metro or train cars, and merchandises containers and truck.