Description
ILS humidifier by steamOvap is a live steam humidifier using steam from a central steam boiler. It is conditioning and distributing steam in your air handling unit (or air duct).
ILS humidifier is available in 3 different models: ILS-P

with horizontal steam ramp and pre-heat jacket, ILS-SO with steamOsorb vertical steam ramps or ILS-SE with high efficiency steamOsorb vertical steam ramps.

ILS

includes all the components required for the treatment and conditioning of low pressure steam such as strainer, separator, steam ramps, as well as F & T condensate trap and the actuated control valve.
ILS uses integral stainless steel construction of grade 304 (higher grade available upon request), a proven design and introduces world's class electronic controller for easy start up and trouble free operation for the life of the humidifier.
Optional electronic controller allows you to ease-up start-up operation and service, it is offered with Modbus, BACnet communication.
ILS-P single ramp

Easy to install.
Compact size.
ILS-P multi-ramp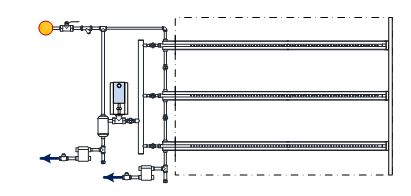 In-field assembly.
Can deliver very large steam capacity
ILS-SO Vertical multi-ramps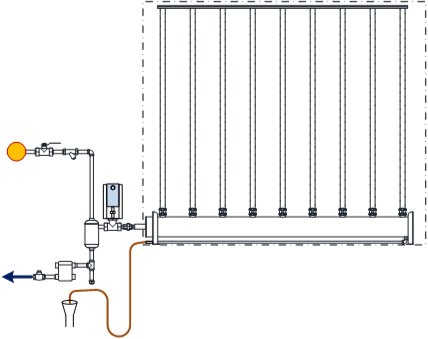 Can meet very short non wetting distance.
Lowest investment cost.
ILS-SE high efficiency vertical multi-ramps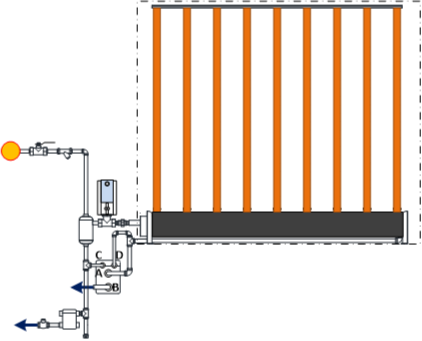 Ideal for 4 seasons humidification.
Highest efficiency & zero waste (with pressure motive pump).
Specifications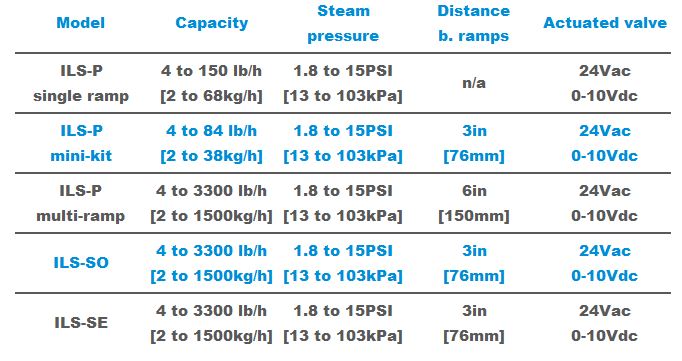 0 to 100% fully modulating steam production.
Stainless steel steam separator.
Float & Thermostatic condensate trap.
Fail safe analog and linear actuated valve.
Made to measure to duct dimensions.
Bronze body valve S/S trim or integral stainless steel valve
3 years manufacturer warranty.
Safety Thermal switch on F&T steam trap.
Motorized on/off valve on steam supply.
Pressure motive pump allowing closed loop circuit and 0 condensate to drain.
DI water compatible construction.
Electronic controller.
Modbus or BACnet RS485 communication


ILS Live steam