Description
AEM Evaporative humidifier and cooler using media is designed to be installed in Air Handling Unit (AHU) or ventilation duct. Water is circulated down in the evaporative media , as hot air is passing through the wet media water is evaporated by the latent energy of the air. As a result the air gets cooled off up to 21F (12C) and humidified at the same time.
Evaporation efficiency is a function of the media design and its thickness, higher the surface contact between the air and wetted media is, better the evaporation efficiency will be, and as a consequence higher the pressure drop will be too.
Even if it is one of the simplest way to cool and humidify the air this very old technology is being considered as one of the most sustainable ones in the quest to use as less as energy as possible.
Winter conditions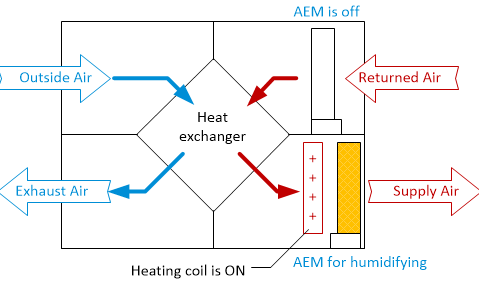 typical system with heat exchanger – winter
Summer conditions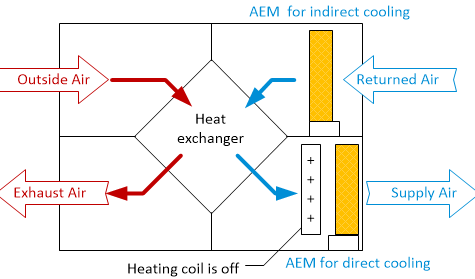 typical system with heat exchanger – summer
Evaporation efficiency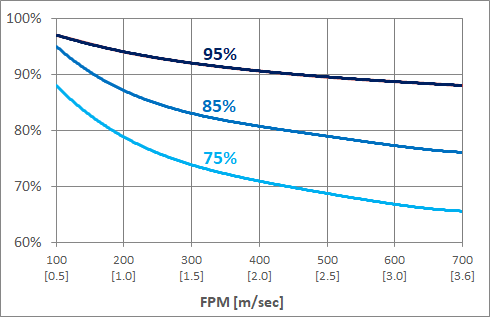 evaporation efficiency vs air velocity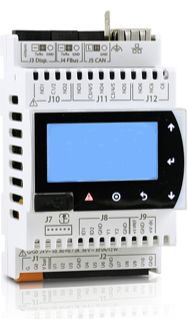 Electronic controller
Large LCD display and user friendly menus.
Controls up to 5 stage water valves, with innovative pulse to demand feature.
Log of operation and alarms easily exportable.
Ethernet allowing remote connection for data log exportation or remote control
Protocols such as Modbus or BACnet IP (or MS/TP) or Lon Echelon available.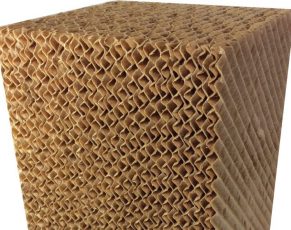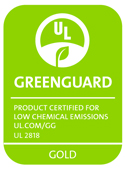 Very low energy consumption, less than 100W
Inorganic ceramic evaporative media material.
Very low pressure drop across evaporation media
Suitable for tap or RO water without additional option.
Integral stainless steel construction for frame and media cassettes.
Electrically sound design : no electrical component close to or submerged by water.
Innovative pulse to demand control minimal water loss.
Electronic controller with easy to export data log.
Legionella safe : aerosol free and no stagnant water.
Fire Rated UL®900 and ULC-S111 Class 1
Fire tested and classified as non-combustible material according to ISO 1182.
GREENGUARD Gold certified under UL's certification program.
Evaporative humidifier