3 Reasons to visit us at 2018 AHR Expo
The 2018 AHR Expo will be held Jan. 22-24, 2018 at McCormick Place in Chicago
As a professional in the HVACR industry, there's no doubt you've heard of the AHR Expo, the world's largest industry event.
There are plenty of reasons why you should attend the Show in January, but we've narrowed it down to the three biggest 😉
Come visit steamOvap at booth 8079
It will be the second participation to the AHR show for steamOvap. If you have missed us last year, you have one more chance to discover our unique and innovative range of humidifiers and controls.
We are dedicated to develop the most sustainable humidification solutions.
Reason #1: IER electric humidifier is the most advanced and sustainable humidifier of its category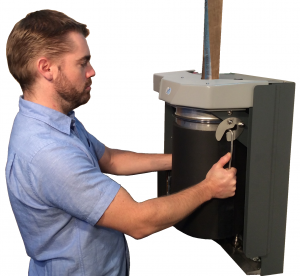 IER humidifier by steamOvap is an electric steam generator that uses water immersed resistive heating elements to produce pure and sterile steam that is then distributed in air handling unit or ventilation duct, or directly into space by using our steam distribution box, SB model.
IER humidifier can be supplied with tap or treated water such as softened or reverse osmosis water.
When tap water is used, the scale will comes off the heating elements by the natural contraction and ex-pansion of the tube heaters . scale pieces then ac-cumulate at the bottom of the cylinder without the risk of clogging the drain outlet.
Regular maintenance and cylinder cleaning is very easy thanks to our unique ''guide & lock'' system. It is a safe and proven solution that requires no tool to remove the cylinder and no consumable to be replaced regularly.
Its evaporation cylinder made of stainless steel is covered with thermal insulation in order to reduce energy losses.
Reason #2: Discover our new AEM evaporative humidifier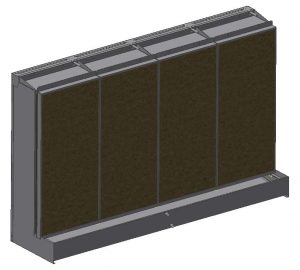 AEM is an evaporative humidifier and cooler using media is designed to be installed in Air Handling Unit (AHU) or ventilation duct.
Water is circulated in the evaporative media , as hot air is passing through the wet media, water is evaporated by using the latent energy of the air. As a result the air gets cooled off up to 21F (12C) and humidified at the same time.
Evaporation efficiency is a function of the media design and its thickness, higher the surface contact between the air and wetted media is, better the evaporation efficiency is but also higher the pressure drop will be.
Even if it is one of the simplest way to cool and humidify the air this very old technology is being considered as one of the most sustainable ones.
AEM evaporative humidifier and cooler is ideal for installation in AHU with heat recovery heat exchanger:
Direct evaporative cooling and humidifying when installed in the supply.
Indirect evaporative cooling when installed in the return lowering the air return temperature will result in increased efficiency for the heat exchanger.
Reason #3: Do not miss the world's first presentation of our new and unique high efficiency steam distribution ramps.
We are proud to present you our solution to dramatically reduce condensate losses in steam distribution ramps.
The high efficiency steam ramps that we have developed use a two layers thermal insulation. this insulation is certified ASTM E84 (equivalent to UL723) and is able to stand very high temperature and fire.
All this at a very affordable cost.
We will be very happy to show you our demo on our booth.
So come and see us at booth 8079